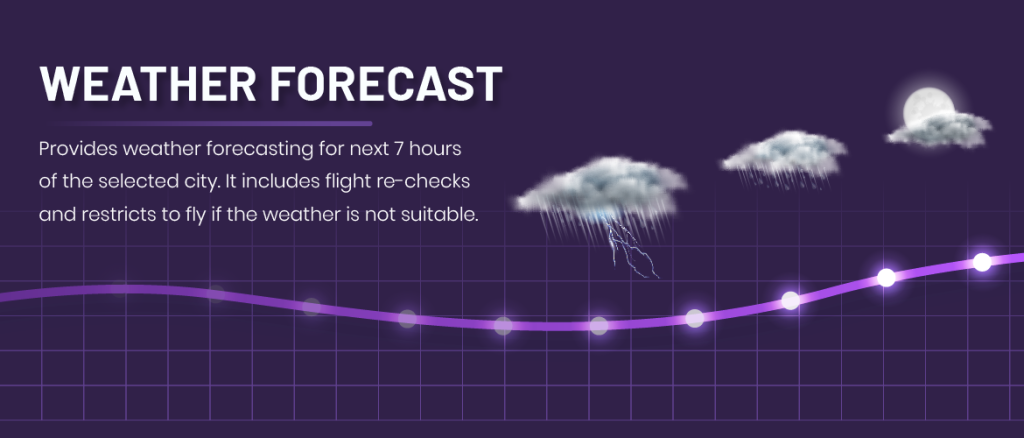 Weather Forecast Drones and Drone missions comprise
Feature – Weather Forecast
Drones and Drone missions comprise a lot of time and money, here the importance of drone and its safety drives in. One of the unpredictable factors is weather. 
Why Weather Forecast?
It is of immense importance to reminisce that weather conditions significantly impact drones. Carrying out missions in unfavorable weather conditions can cause major damage and losses. Windy weather or sudden heavy rainfall can be a foremost reason for inviting mishaps. Unsuitable weather conditions can cause significant impact on the drone as well as may lead to enormous obstacle. 
Weather Forecast feature is of great importance as it helps to provide authentic information of the atmospheric conditions at a given site. Weather is a volatile factor of nature and also utmost important when it comes to carrying out missions which have ultimate role in the business. 
Weather Forecast feature, helps to give weather information of about 5 hours of the targeted location, which becomes easier to plan and execute the missions. In case of unsuitable weather conditions, it restricts the drone from flying which helps in avoiding any accidents and losses. Flight pre-checks before mission execution is important to complete the project with ease and without any hurdles. 
Benefits of Weather Forecast:
It can help you save time of going at the mission site. 
It will help you save additional cost of the Drone Pilot/Professional.
It can save you from accidents and looses caused by unfavorable weather conditions. 
Weather forecast thus, is a very important feature when it comes to signing up for a Unified Drone Management System. 
Ensure you have your to do list ready when you are looking for an Drone Management Software!