Empowering the future of Drone Industry with AeroMegh Platform
10,000+ Candidates to be Certified on PDRL's AeroMegh Platform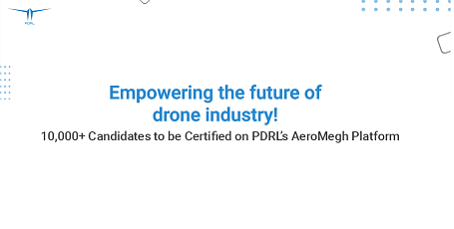 The drone industry is undergoing an evolving process, signifying a paradigm shift that holds great potential for investors. As the skies become adorned with a multitude of drones, the demand for skilled professionals is surging. Recognizing this seismic change, PDRL has emerged as one of the leader, driven by a vision that embraces the power of learning. In this conversation with Vishal Joshi (Head – Training and Certification, PDRL) he delve into PDRL's role in this industry revolution and explore how they are exploring the potential in the drone industry.

Q. How is the drone industry shaping up and what are its current trends and prospects? What is the significance of certification in the drone industry ecosystem? Also, what is the role PDRL is playing in this domain? 
A. The drone industry is experiencing rapid growth and is poised to revolutionize various sectors, including construction, agriculture, surveillance, and delivery services. With increasing adoption and promising market prospects, drones are reshaping industries and driving operational effectiveness. In this evolving ecosystem, certification plays a vital role. It ensures operators possess the necessary skills, knowledge, and regulatory understanding to operate drones safely and responsibly. Certified professionals are equipped to navigate complex airspace, mitigate risks, and comply with industry standards. Certification enhances credibility, fosters trust, and opens up diverse professional opportunities in the expanding drone market. As the drone industry expands, there is a growing demand for skilled drone professionals. PDRL recognizes this need and has developed a comprehensive Certification Program that incorporates the latest technology stack. PDRL's program empowers individuals with the expertise and credentials needed to excel in this dynamic industry. By providing top-notch training and certification, PDRL is committed to supporting the growth of the drone ecosystem and preparing professionals for the exciting opportunities that lie ahead.
Q. What is the importance of learning the best technology stack in the drone industry, and how is PDRL contributing to providing the necessary solution adhering to its vision?
 A. The surging demand for drones has led to increased competition and interest in the industry. While drone pilots are obtaining licenses, there is a persistent lack of knowledge in the finest technology stack. PDRL aims to address this gap by offering comprehensive learning options that cover the best technology stack in the drone domain. With over 50% of drone manufacturers being Type certified with AeroGCS from the AeroMegh Suite, and more than 75% of agriculture drones licensed with AeroGCS Green, the need for skilled resources is evident. As drone manufacturers plan to produce over 10,000 drones, there is an immediate requirement for 10,000+ AeroMegh skilled professionals to cater to the
growing market. PDRL recognizes the significance of developing expertise in the finest technology stack to achieve optimal outcomes and improve operational efficiency. By offering thoughtfully designed courses, such as Solution Expert and Solution Architect, PDRL empowers interested candidates to pursue rewarding careers and enables current professionals to enhance their skills and go beyond traditional practices. Mastering the best technology stack instills confidence in users and allows them to concentrate on critical tasks. PDRL takes pride in being the pioneering company to introduce such a meticulously designed course program, catering to the recurring demand for skilled professionals in the drone industry.  Through PDRL's platform, individuals can acquire the necessary skills and knowledge to excel in the drone domain, unlocking new opportunities and contributing to the industry's growth.
Q. What is AeroMegh SaaS by PDRL?
 A. AeroMegh, the comprehensive drone Software-as-a- Service (SaaS) solution, revolutionizes the field of drone missions. It provides a holistic package encompassing drone flight, data capture, processing, and analytics, offering a seamless experience for users. By leveraging AeroMegh, individuals aspiring to embark on a rewarding career in the flourishing drone industry can unlock exciting opportunities. The PDRL Certification Program serves as the ideal platform for learners to acquire in-depth knowledge and skills in AeroMegh, gaining a competitive edge in this rapidly expanding ecosystem.
Q. What is the PDRL's Self Study Module? How does PDRL provide Training in order to be Certified?
 A. PDRL's commitment to providing comprehensive training extends beyond authorized training partners in India to a global expansion. The training programs offered cover various PDRL products, equipping candidates with the necessary skills and knowledge for certification. The self-study option allows individuals to tailor their learning experience according to their schedule and learning style, preparing them independently for the certification exam. PDRL takes pride in recognizing successful candidates with its esteemed certification, validating their expertise and proficiency in PDRL products and technologies.
Q. Describe the vision of the PDRL Certification Program?
A. PDRL aims to create a larger pool of job opportunities for job seekers. With the increasing demand for drones in various industries, PDRL envisions its integration across sectors, resulting in a direct need for a greater number of skilled professionals. PDRL focuses on developing user-friendly drone technology, providing users with more time for meaningful activities. AeroMegh users and PDRL Certified Professionals will proudly acknowledge the simplicity of the technology stack, allowing them to focus on essential tasks and enhance their efficiency. The PDRL Certification Program aims to certify over 10,000 candidates initially and has the potential to reach countless others, contributing to skill development and job creation. 
For more details visit: