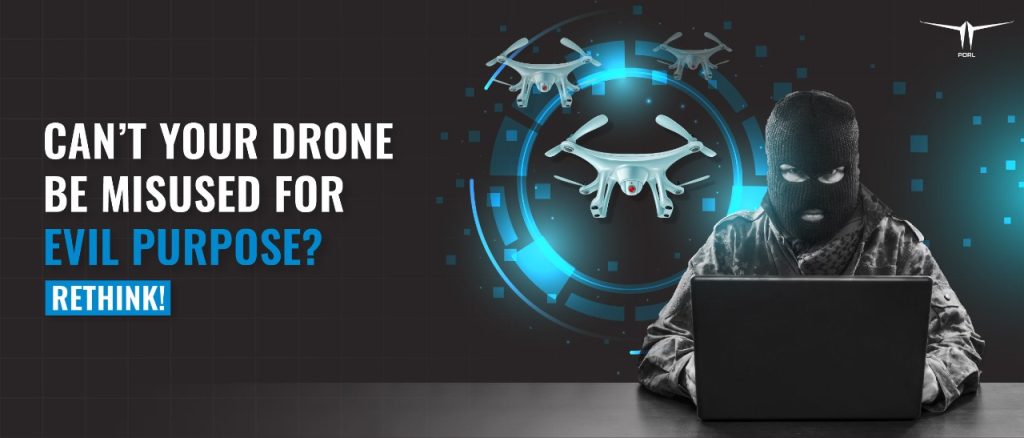 Can't your Drone be misused for evil purpose? Rethink!
Drones are good for everything! However, if misused, they can be perilous too. Recent newsflash on airbase using drone has pulled public attention and raised concerns for individuals as well as entities using drones for moral or business purposes. Certainly, the mishappening has caused irreversible damage and respective forces are working in order to retaliate appropriately. 
There is a probability that, used drone might have manufactured locally and misused. They might have purchased drone components locally, assembled it and used it. Respective forces will surely put more monitoring on such procurement and assembling to avoid such kind of mishaps in future. However, if you are an authorised drone manufacturer then you will have all access to procure drone spares and manufacture your drones. What if some third party gets access of your manufactured drone and uses it for illegal purposes on vital? Have you really thought of protecting your drone from misuse and have you taken adequate measures to avoid such scenarios? If you have not taken precautionary measures for your drones, you still you have time to think and secure it. Act now, before it gets delayed. 
There are many things you need to ensure to be in place to have better drone security for your business as well as for society. Some of the important parameters to be taken care of while manufacturing your own drones to ensure it is used only for good cause. 
Secured Boot loader It is necessary to have right boot loader in your drone so that it will always check the authenticity of your drone firmware. 
Secured Drone Firmware Your drone must always have secured firmware so that it cannot be modified and bypass the local compliance of flying with Government permissions only. The firmware must not allow to change the operational envelope of the drone and must be used only for the designated purposes. 
Specialized GCS software Specialized enterprise-grade GCS software must only be used with your drone, so that specialized GCS ensures flying only in permitted areas. 
Secure Upgrade Secure upgrade of your drone firmware is vital as it will ensure that your drone has authenticated firmware.
Local Compliance It is always important to have local compliance in place so that your drone flies as per local compliance only and protects society.
Continuous Live Tracking When your drone is in operation by you, operator, or service provider, always ensure that your flights are tracked and all detailed logs are recorded. You must have a system in place to track your drone and notifies you if it goes missing. 
Intimation to Police If your drone goes missing and is not getting tracked, always inform the local police so that they are aware of the situation and help you further. 
Let us start ensuring that drones are for every citizen intended for good purposes only. AeroGCS software suite along with AeroMegh platform can certainly help you to ensure the right use of your drones. In the end, drones are helpful for our society with adequate measures are taken.