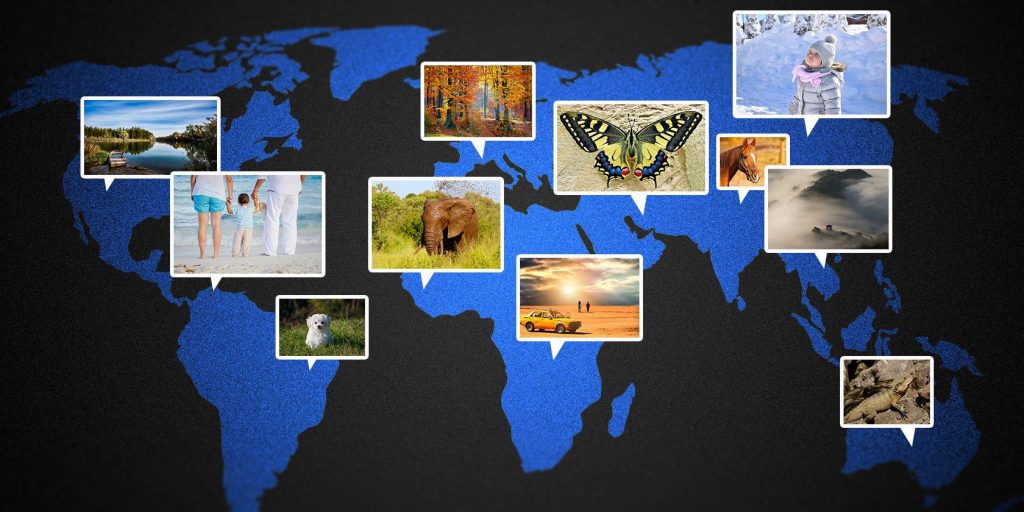 Simplest and Secured Drone Management Software
AeroGCS is drone management and mission planning software supporting various autopilots like Ardupilot and PX4. AeroGCS is the simplest mission planning software which helps to plan drone flights in few seconds using wizard flow. 
Newly Added Features
Terrain Mode: This mode enables the drone to automatically detect and change the height while flying. The drone maintains a certain height above terrain and automatically adjusts its altitude based on the terrain below.
Geotag Images: Geotagging is the process of adding geographical identification metadata to various media such as a geotagged photograph or video. Geocoordinates (latitude, longitude and altitude) are embedded into images irrespective of the type of camera used. 
Weather Forecast: This provides the weather forecasting for next 7 hours of the selected city from weather setting.This is included in Flight prechecks, it doesn't permit to fly if weather is not suitable.
Theme: Themes are for personalized effects and user experience. AeroGCS now has light and dark theme.
AeroMegh Account: AeroGCS provides the integration with AeroMegh to use the cloud services like video streaming, tracking, data syncing etc.
Total Distance: This function provides the total distance of the mission plan before flying.
Search option for plans with new UI: Helps to search the plan by its given name.
Mode Visibility on Fly View: All Vehicle modes are clearly visible on fly view. Like arm/disarm modes are visible on fly view when vehicle is in that mode.
Corridor Planning: In corridor plan user can creates a survey pattern that follows a polyline. This type of plans is used to do a survey of road.
New Editions of AeroGCS Software
AeroGCS Enterprise
– Increase productivity by Improving operational Efficiency.
Team Collaboration- AeroGCS Enterprise edition empowers drone service providers to create a team of this drone professionals and assign individual flying tasks that can be executed simultaneously.
Business Analytics- The business intelligence gives daily insights of flights and understand how much business is generated everyday by overall drone services.
Pay as you Grow- AeroGCS is offered as Software as Service model so that no capital investment has to be done by the service provider. He can pay for number of drones which are in operations either per month or per year.
UAV Performance Analytics- The performance analytics gives details of each flight performance and overall performance of machine over the period. The performance insights help to understand the maintenance schedules, predictive analysis and overall utilization of the machine.
Live Situation Awareness- With AeroGCS Enterprise edition, you can monitor all live flights from your own office. You can see where all drones are flying and what is their current flying situation.
UTM and Compliance- AeroGCS offers capability to integrate with world leading UTM platforms. It enables comply with local norms so that it empowers drones to fly according to geo-fence defined by the law of land.
AeroGCS OEM
– Empowering OEMs to scale faster.
GCS Client Only- OEM wants to give a simple and secure GCS software along with its manufactured drone. The drone buyer requires a GCS to start using the drone.
Continuous updates and features- In case of OEM licensing, all new updates and features of GCS are provided for long term.
Bulk Perpetual Licensing- AeroGCS OEM edition support bulk perpetual licensing for OEM. This helps to lower down overall cost of the drone for OEM.
License Management Server- License management server also helps OEM to manage overall inventory of manufactured drones and sold-out drones. Single platform addresses multiple requirements.
Co-Branding- AeroGCS OEM edition comes with an option of Co-branding. Co-branding helps to give a long-term service assurance to your customers.
UTM and Compliance- AeroGCS OEM version helps you to get the local compliance done as per law of land. AeroGCS also supports integration option with the UTM system for authorization purpose.
Tech Talks
PDRL's AeroGCS to prevent Misuse of Indian Drones through NPNT Solution  
PDRL's AeroGCS to prevent Misuse of Indian Drones through NPNT solution – Times of India (indiatimes.com)
Watch Now
AeroGCS : Simplest Drone Management Software with end to end Security – YouTube
Documentation
AeroGCS – AeroGCS User Manual